01.

THE BEST REAL ESTATE OFFER AT THE MOMENT
O
Key Haven Estate is located right on a major road along Igbonla road in Ilara, Epe, Lagos State, Nigeria. Just few minutes after  St Augustine University(Owned by The Catholic University) in Ilara, Epe, Lagos Nigeria.
Landmarks:
Epe resort and Spa
Yaba College of *Technology(Epe Campus)
Newly tarred Constructed Roads
Lagos State University (Epe campus)
Eredo LGA
St Augustine University
Igbonla Government Model College
And so on…
Facilities:

Beautiful Gate House
Drainage system
Portable water
Perimeter Fencing
Power supply
Security and lots more.
OFFER Price :
Land Price : 1.8M (600sqm)

Developmental Fee: 300,000
Documentation Fee: 300,000
Location: Ilara Igbonla Road Epe
Title : Registered Survey. C of O in process.
For further enquiries, please send us a chat.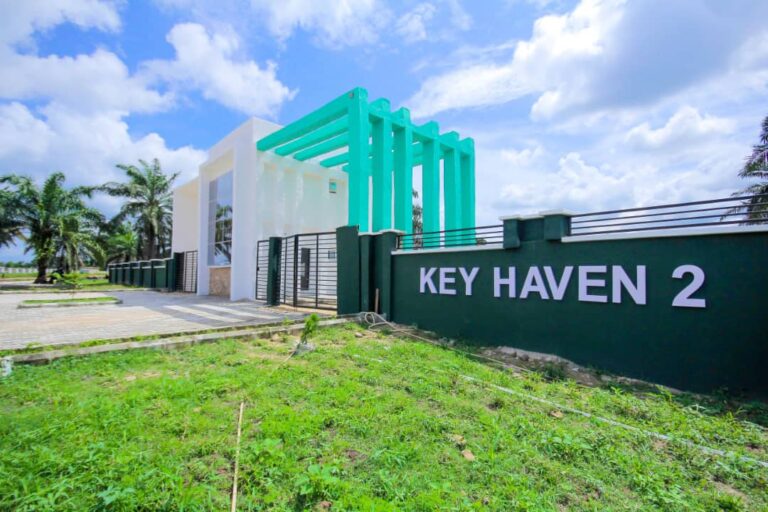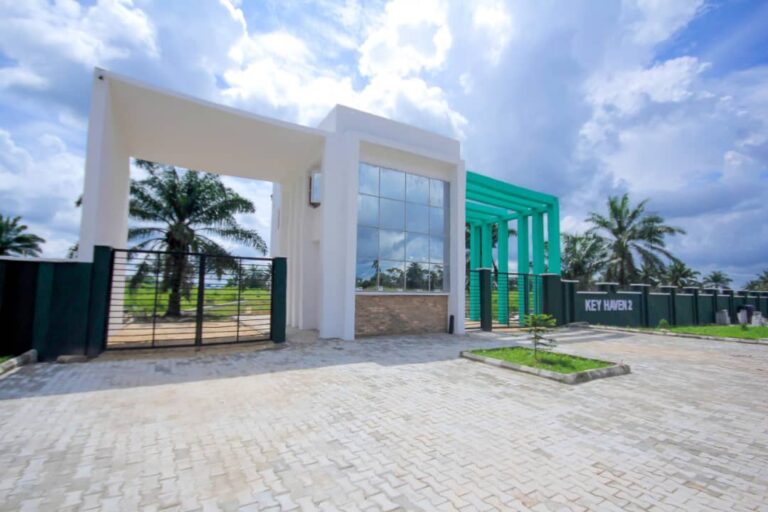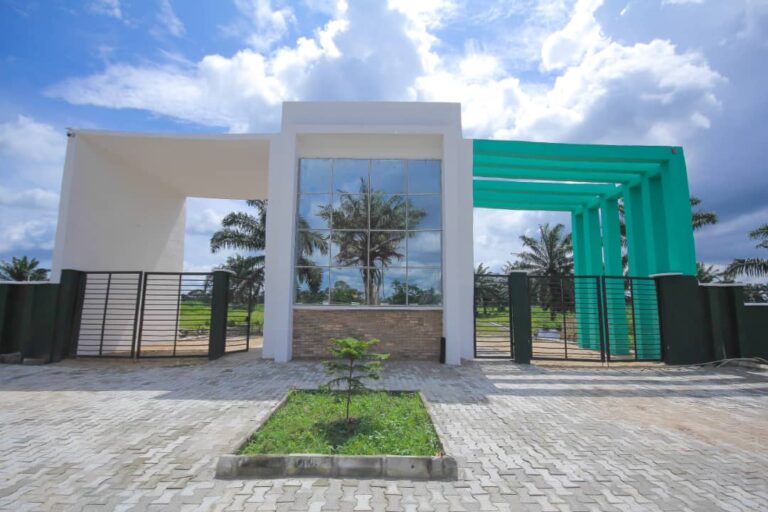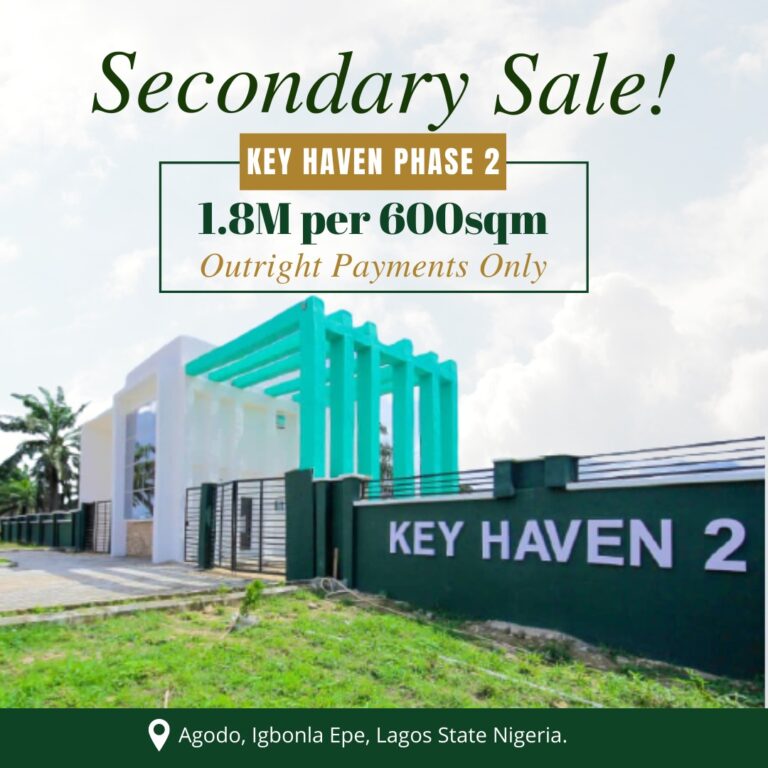 Download Subscription Form Here
Where is KEY HAVEN PHASE 2located?
KEY HAVEN PHASE 2 is located at Igbonla Epe, Lagos State Nigeria, about five (5) minutes drive after
Key Haven Estate Phase 1.
Will there be any developmental levy??
Yes, N150,000 (One Hundred and Fifty Thousand Naira) per plot, to be paid before physical allocation.
If I buy multiple plots, will I pay developmental fee for just one plot or I have to pay per plot.
Development fees are used to provide infrastructures in the estate, therefore, it must be paid per plot.
What does the development fee covers?
It covers all the amenities to be provided in the Estate.
Would there be an agreement fee?
Will there be extra charges for commercial plots and corner piece plots?
Yes , it attracts an additional 25% payment of the prevailing property price
What documents do I get after full payment ?
Receipt, Invoice, Acknowledgement letter, Contract of Sale, Survey and Deed of Assignment.
: Is the road to the Estate motor able?
Yes, the roads are  well tarred.
Can I re-sell my plot(s)
YES, but you will have to be inform the company so that there can be a proper transfer of ownership.
If I paid outright payment or installments payment for my plot(s) and I'm no longer interested, can I get a refund?
YES, but it would be subject to getting another buyer, our company may buy- back  but it be subjected to  30% administration fee.
What type of Title does KEY HAVEN PHASE2 have ?
Survey, Deed of Assignment with land owners, Approved survey plan, Approved layout plan, and
subsequently C of O will be processed.
Will I pay for survey?
No, what you pay is documentation fee which includes the survey and the deed of assignment and other
requirements for physical allocation. The fee for documentation is N150,000 (One Hundred and Fifty Thousand
Naira) /plot of 600sqm. Developmental /Infrastructural fee is N150,000 (One Hundred and Fifty Thousand Naira)
per plot, this will be paid before allocation.
What is the size of the plot?
60 ft. x 100 ft. [600sqm]
What types of infrastructure will the developer provide?
- Play area - Electricity
- Good Earth Road - Excellent access roads
- Dry land (Easy and Cheap to build) - Beautiful Gate House and Estate Office
- Game Center - Commercial are
- Worship area and so on…
Will there be an Agency Fee?
When will my plot(s) be allocated to me?
Is there any time limit to commence work on my land after allocation?
No , however, subscribers are required not to leave their land vacant for a reasonable amount of years e.g 5- 10years, Also owners are to required to maintain their undeveloped plots especially a must when people start residing in there for the safety of the residents living in the estate.
Can I pay cash to your agent?
NO All payments must be made to the company account. Please our agent for it.